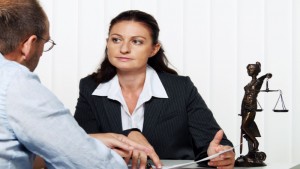 A divorce can affect you negatively and cost you a lot if handled improperly by an inexperienced, or unavailable divorce attorney. The extent of your victory (or loss) in court depends on your divorce attorney's knowledge, expertise and experience. You want to be certain that you have the right person for the job before you dabble into the murky waters of divorce court.
What Are The Things To Lookout For When Hiring A Divorce Lawyer?
Ease of Communication: The inability to effectively communicate with you divorce attorney can mar your chances of receiving a fair judgement or settlement. The complaint of lawyers being inaccessible to their clients is especially common in divorce courts. Before you make your final hiring choice, be sure that your divorce attorney is easy to talk to and ready to listen to your needs, ideas and thoughts.
Rates: Many clients do not take this into consideration and end up in a lot of debt arising from attorney fees. The last thing you want to deal with during or after a divorce process is fighting your attorney over payments. Find out what it costs hourly, weekly or per session. Find out the retainer charges, consultation charges and all other charges that may/will arise during the course of the divorce. Have the rates, terms and conditions written out and signed by mutual contract and find out the refunds you might be entitled to.
Clients Feedback: This is very important; it is great if you find a divorce attorney through people you know and trust. If you do not know anyone who can recommend had a great divorce attorney, consider lawyers who have amazing client feedback and testimonials. At Fischer & Van Thiel, L.L.P, we provide prospective clients with some of our past cases to help them in their decision making.
Availability: This is also very important. Beyond being physically present, you need a divorce attorney who is mentally present and available to give you objective assessments. Before hiring, have a first consultation with your intended divorce attorney to see if he/she fits the bill. The first consultation will help you gauge the attorney's performance and understanding of the subject matter, which will help you make an informed choice.
Do you need a divorce attorney in Carlsbad?
We will be happy to speak with you and take the strain off your shoulders.
Call Today for a FREE Consultation!!